31 October—8 November, 2011
FALL FROLIC IN VENICE & FLORENCE
Italia at its best — great art, great food & wine, great camaraderie, and artistic commentary by an award-winning author!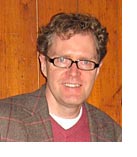 We will be joined on the tour by expert author and art historian Ross King. King's book, The Judgment of Paris: The Revolutionary Decade That Gave the World Impressionism (2006) was met by much critical acclaim and considerable commercial success. By contrasting the works of Ernest Meissonier and Édouard Manet, the book chronicles the dramatic transition by which the Impressionist painters changed the artistic vision of the late 19th and early 20th century. King received Canada's 2006 Governor General's Award for Non-Fiction for this book. Ross has joined us in Paris and London on previous tours.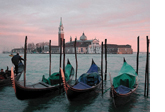 Our trip will start in Venice, where we explore beautiful paintings by so many Italian artists: Giorgione, Bellini, Tiepolo, Tintoretto, Raphael and more in the Academia, I Frari, San Marco and many other churches containing valuable altarpieces and canvases.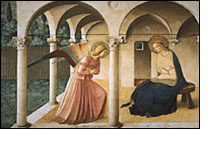 Some of the sights on the agenda in Florence will include (one of my favorites) the convent San Marco with fabulous frescoes by Fra Angelico (see The Annunciation, left), Michelangelo's masterpiece David in the Academia, and Donatello's David in the Bargello... not to mention the glories of the Uffizi and Ross' forte, the Duomo.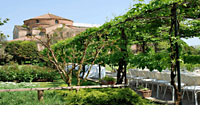 Lest you become overloaded with art, we have planned free time to SHOP in these great cities, and also to take some excursions, for one to the island of Torcello, a 40-minute boat ride from Venice, to visit the cathedral with exceptional Byzantine mosaics, but more importantly to have lunch at the Locanda Cipriani (shown at left, with the cathedral), honeymoon spot for Bogey and Bacall.

Our hotel in Florence, the Berchielli (www.berchielli.it), is located right on the Arno River, and one of Italy's most interesting jewelry designers is just across the street.

In Venice, we will stay at the newly created Hilton on Giudecca, which affords us splendid views of the "mainland" (www.molinostuckyhilton.com).

Approximate Cost: $3,650 per person (air fare not included); $650 single supplement. Costs are based on a minimum of 10 participants.

Reservations: $750/person deposit. Please make check payable to Adventures, Inc. and mail payment with booking form to Jean Glasel, 15 Colton Street, Farmington, CT 06032. Email Jean at jeanglasel@adventuresinc.com or call 860.674.1114 if you have questions or need further information.

Back to top